Charging Guide
Charging Guide
If you are not charging at home, you can top up at a charging point. First of all, you need to get your hands on one of these: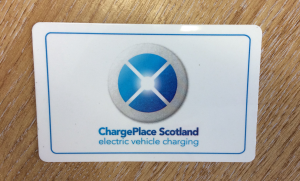 Register for one at ChargePlaceScotland.org and click on 'Join us.' You have to enter payment details to pay for electricity where it isn't free.
Most charge points in Scotland will activate with a Charge Place Scotland card.
Drive up to an available charge point – find one on our map here.
-or-
If you're travelling out of Dundee check out zap-map.com and chargeplacescotland.org
The charge point will either have a socket to plug your cable into or cables to plug into your car. Park your car appropriately and plug your car in.
Hold your card up to the 'scan' icon (and press start if there is a button) to begin the power flow to charge your car.
There will be an indication that your car is charging.
To finish charging, hold your card up to the contactless point to end the power flow.
Unplug your car and always tidy cables away as you found them to prevent damage.
Visit the contact us page to report a problem with a charge point or if you need further guidance on charging.

Issue with a charge point?
Take note of the charge point number and dial the number on the charge point.

Dundee City Council introduced charging tariffs in November 2020.
Tariffs of 15p per kWh with a 38p connection fee have been introduced through the Charge Place Scotland back office which will record charging session through use of swipe cards and will then invoice electric vehicle users on a monthly basis.
A Dundee resident's discount scheme has been introduced for the cities privately owned plug-in hybrid or fully electric vehicles. Applying for the scheme applicants must provide the following items:
- Proof of Dundee residency (council tax bill or utility bill)
- ID
- Note of vehicle registration
- Charge Place Scotland Swipe card.
The following documents must be presented in person to:
Marchbanks Depot Reception
34 Harefield Road
Dundee, DD2 3JW